Short Courses in Shrimp Biology:
I have been giving short courses in shrimp biology in English or Spanish over the last few years and am available to do so if invited by a host and host institution. These courses (1-2 weeks, depending on time restraints of host and students) have been sponsored and organized by host colleagues or institutions. Hosts participate in co-teaching some part of the course as they desire. I prefer a group of interested graduate students and/or postdocs, professors, but motivated undergraduates are welcome as well. I am currently committed until mid-late 2014 but after that time am free to offer the course. I ask that the course be co-organized with the host professor (s) and that funding for airfare and lodging be provided.
The course covers all aspects of shrimp biology: introduction to the caridoid (shrimp) body plan; systematics and comparisons of general biology of major shrimp groups; functional morphology; sexual biology; grooming (antifouling) behavior; mating systems; life history patterns; hermaphroditism; shrimp family "portraits;" reproductive migrations of freshwater shrimps (amphidromy); coloration; parasitism; symbioses; and evolution. Students often present their own research, and field trips to local habitats are an integral part of the course.
Many thanks to course colleagues and students who contributed photographs to this webpage.

Coquimbo, Chile 2007: The 2007 course was organized and cotaught by Martin Thiel, Universidad Católica del Norte, Chile, with Antonio Baeza and Arthur Anker contributing. There were 19 students, ranging from graduate students, postdocs, and one established researcher (Dr. John Markham) from several countries (Argentina, Brazil, Chile,Mexico, Peru, United Kingdom, USA)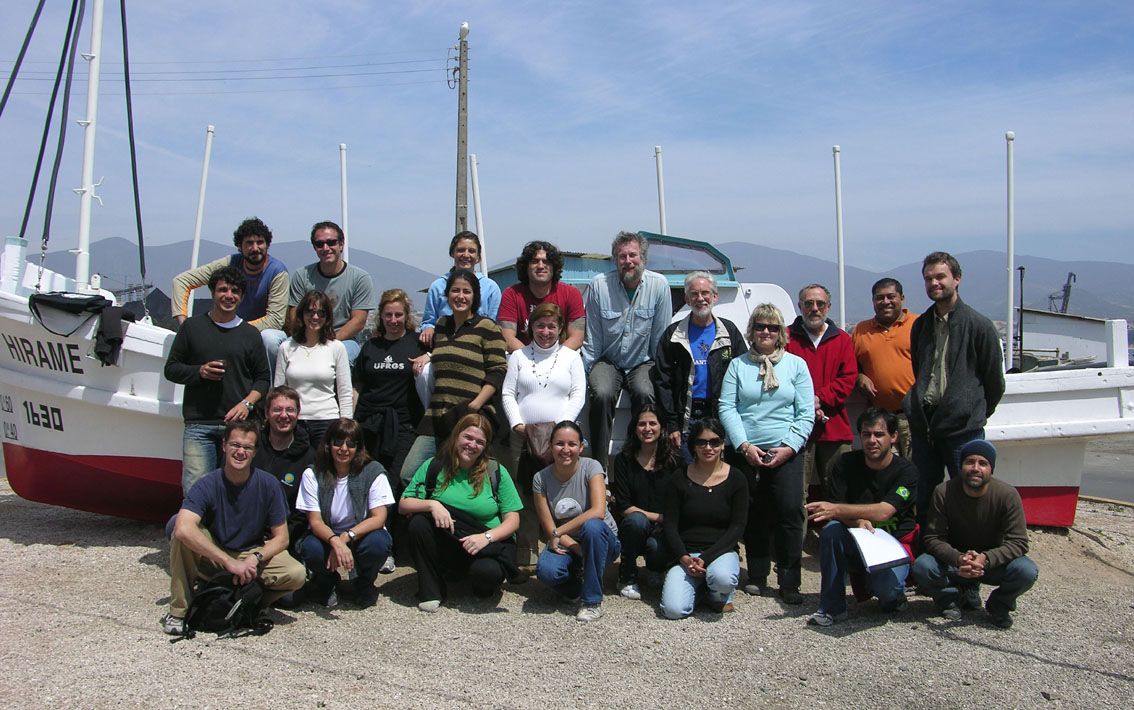 Class with Martin Thiel (top row, fifth on right; Bauer to right and below Martin; Antonio Baeza is on bottom row, far right)
| | |
| --- | --- |
| river shrimp Cryphiops cemaentarius (Elqui River) | Bauer and students in seagrass meadow |
| | |
| --- | --- |
| Laboratory | Field trip to rocky intertidal |
| | |
| --- | --- |
| Bauer, Thiel presenting class certificate to Adrienne Braga | Bauer and Thiel at postclass party |
UNAM Sisal 2011: In November, Dr. Nuno Simoes hosted my shrimp class at the Sisal campus of the Universidad Nacional Autónoma, México, near Mérida, Yucatan, along with professor Jose Luís Bortolini, UNAM Mexico City and other UNAM Sisal faculty. Both undergraduate and graduate students from different universities in Mexico, along with Dr. Rafael Gregati, attended the class which included lectures, laboratory, assorted field trips to beach, mangrove, and seagrass habitats, as well as to a day at a large cenote in central Yucatan (see below)
| | | | |
| --- | --- | --- | --- |
| UNAM Class Participants | | Ray Bauer, Nuno Simoes, Jose Luis Bortolini | Bauer Lecture |
| | | |
| --- | --- | --- |
| Dr. Maite Mascaró Lecture | Bauer and Bortolini | Nuno Simoes with students in lab |
| | | |
| --- | --- | --- |
| Cenote Dive | Sampling in mangroves | Boat Trip to Mangroves, flamingos |
| | | |
| --- | --- | --- |
| Sorting seagrass shrimps | Nuno Simoes (center) with students | Yucatan Beach |
Costa Rica 2012: Dr. Ingo Wehrtmann, School of Biology, University of Costa Rica, San Jose, hosted, organized and co-taught our two-week course in late February with graduate and undergraduate students. Part of the course took place at a marine biology course on the Pacific coast. The high diversity terrestrial and marine habitats of Costa Rica, as well as hospitality of the Biology Department at the beautiful UCR San Jose campus, were much enjoyed by all. After the course, students attended and/or participated in the meetings "Primero Congreso de Macroinvertrebrados de Agua Dulce," especially the special session on Decapod Crustacea, with speakers such as Ingo, Bauer, Fernando Mantellato and Celio Magalhães (Brazil), Fernando Alvarez (Mexico), Alan Covich (Univ. Georgia, Athens) and other Latinamerican biologists. After the meeting, Ingo took some of us for a collecting trip to the Veragua rain forest (Atlantic slope).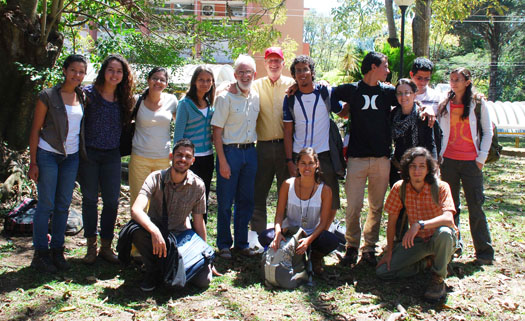 Costa Rica class students and Ray Bauer, Ingo Wehrtmann (center)
| | | |
| --- | --- | --- |
| Students with Ingo in laboratory | Students with Bauer in lab | Class having lunch |
| | |
| --- | --- |
| Students on field trip, Pacific coast | Juliana Herrera throwing cast net in mangrove creek, Pacific coast |
| | | |
| --- | --- | --- |
| Veragua rainforest stream | Veragua rain forest: Ingo Wehrtmann, Veragua naturalist, Fernando Mantellato, Celio Magalhães, Ray Bauer, Fabricio Carvalho | Ingo, Celio, Fabricio, Fernando M., Veragua lab |
Brazil (Ubatuba) 2012: This course was funded with a grant by the Brazilian government to P.I. Dr. Fernando Mantellato, Universidad de São Paulo (USP), Ribeiro Preto, to study diversity of Sao Paulo state and to promote international collaboration between Brazil and other countries. The shrimp course took place at the beach town of Ubatuba, Brazil, with Drs. Mantellato, Antonio Castilho (UNESP Botúcatu), Rogerio Costa (UNESP Bauru) and Fernando Zara (UNESP Jaboticabal). The course in Ubutuba had lectures, labs, student presentations and field trips to sample the diverse shrimp populations that have been the focus of much research by this group, along with their mentor Dr. Adilson Fransozo (UNESP Botucatu). Nearshore shallow subtidal rocky habitats were sampled via SCUBA and snorkeling. After the class, Bauer had site visits and gave seminars at UNESP Botucatu (hosted by Antonio Castilho and Maria Lucia Neigreiros Fransozo), UNESP Bauru (hosted by Rogerio Costa) and USP Ribeiro Preto (hosted by Fernando Mantellato)
| | |
| --- | --- |
| Professors at Ubatuba, (left to right): Drs. Adilson Fransozo, Fernando Zara, Rogerio Costa, Ray Bauer, Fernando Mantellato, Antonio Castillo | Ubatuba class and other grad students |
| | |
| --- | --- |
| Shrimp trawler used in field trip for collecting penaeid and caridean shrimp | Class Lecture, Ubatuba |
| | | |
| --- | --- | --- |
| Students in lab, Ubatuba | Ubatuba lab: infaunal alpheid shrimps | Exhippolysmata oplophoroides (preserved) from trawl catch |
| | | |
| --- | --- | --- |
| Students on Dive Trip | Students and Bauer on Shrimp Trawler | Students and Bauer on Shrimp Trawler |
Back to Home Page