Contact
215 Maxim Doucet Hall
337-482-5172 & 5173
bruce.wade@louisiana.edu
Mathematics Department
P.O. Box 43568
University of Louisiana at Lafayette
Lafayette, LA 70503-3568
---
Degrees
Ph.D. 1987 University of Wisconsin- Madison
M.S. 1984 University of Wisconsin- Madison
B.S. 1982 University of Wisconsin- Madison
For a detailed list of publications: C.V.
Information
I received Bachelor of Science (1982) and Master of Science (1984) degrees in mathematics from the University of Wisconsin- Madison. From 1979-1982 I was a member of the UW Marching Band. I've been licensed as amateur radio's N9UR, since 1977. I then received the Ph.D. in Mathematics (1987) from the University of Wisconsin- Madison. My Ph.D. dissertation, which is in the area of Numerical Analysis, was directed by John Strikwerda. While a doctoral student I was employed by the Army Math Research Center. After graduating, I received a post-doctoral research appointment in Mathematics at Cornell University, where I studied under Lars Wahlbin. I joined the faculty in the Mathematical Sciences Department at University of Wisconsin- Milwaukee in 1989. After serving 29 years at UW-Milwaukee, moved to the University of Louisiana at Lafayette as Professor and Department Head (Mathematics). I am also Professor Emeritus at UW- Milwaukee.
I teach mathematics and conduct research in applied mathematics. My main research interests are in the areas of numerical analysis and computational methods for partial differential equations.
I am associate editor for these journals (click the images):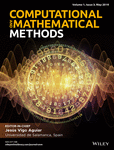 I am Co-Founder of the International Research Conference Series Computational and Mathematical Methods in Science and Engineering (CMMSE) (click the image):